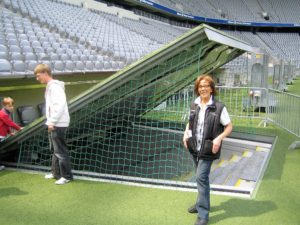 FC BAYERN MUSEUM IN DER ALLIANZ ARENA
DEUTSCHLANDS GRÖSSTES VEREINSMUSEUM FEIERT SEINEN 120sten GEBURTSTAG

Mit über 3.000 qm Ausstellungsfläche ist das FC Bayern Museum das größte Vereinsmuseum Deutschlands. Mit jährlich über 350.000 Besuchern zählt diese einzigartige Erlebniswelt zu einem der beliebtesten deutschen Ausstellungshäusern. Auf einer Tour durch das Museum begleite ich Sie auf einer Zeitreise von der Gründung des FC Bayern im Jahre 1900 – also genau vor genau 120 Jahren – bis in die Gegenwart. 29 Mal Deutscher Meister, 19 Mal DFB Pokal-Sieger, 2013 das Triple sorgen für herausragende Exponate, zahlreiche Trophäen und internationale Pokale. Unterstützt durch AUDI bietet die modernste Medientechnik uns eine faszinierende Mischung aus Information, mitreißender Emotion und erlebnisreicher Interaktion.
In der HALL OF FAME gibt es wechselnde Sonderausstellungen mit Pokalen, Lesungen, Autogrammstunden, Stars zum Anfassen und Aktionen. Nicht nur Franz Beckenbauer, sondern jede FC Bayern Legende hat ihre Geschichte: wir erleben die größten Spieler. Sogar Kindergeburtstage finden hier statt.
Geöffnet ist das FC Bayern Museum Montag bis Sonntag, 10 – 18 Uhr (außer Weihnachten, Silvester und Neujahr). An Spieltagen des FC Bayern gelten gesonderte Öffnungszeiten. Eintritt nur mit gültigem Spieltagsticket.
Gerne begleite ich Sie auf einer Tour durch die Allianz Arena mit Presseclub, der Spielerkabine des FC Bayern, die Spielerklappe und den Spielertunnel sowie die Mixed-Zone. Das größte Highlight ist das FC Bayern Museum.
Barbara Schöne, Offizieller Münchner Tour Guide, Arena Guide 2006 – 2010
Allianz Arena (Soccer Stadium)

The Allianz Arena opened its gates in May 2005, when the opening whistle was blown for the 2006 FIFA Soccer World Cup.  So far, this was its greatest event. In the beginning the Munich soccer temple was the new play field for Munich's two Bundesliga clubs, TSV 1860 München and world famous FC Bayern München. This is the stadium that hosted the opening match of the FIFA World Cup 2006.
The oval venue is 258 meters long, 227 meters wide and 50 meters high. Up to 75.000 fans can get their thrill in Europe's steepest seats for federal games. The Allianz Arena is Germany's only three-tiered stadium. Today there are up to 75.000 seats available for federal ligue games (Bundesliga).
The world-wide celebrated architects Jacques Herzog and Pierre de Meuron from Switzerland have designed Europe's most modern arena in 2005. The exterior façade is unique. It is made of inflated foil panels with an integrated lightening system. The foil coussins illuminate in white and blue or red and white or just white. The color depends on which team is playing. The fascade shines purely in white for a Champions League Match as an international tournament.
When no match is scheduled, the venue can be used for conventions and other events. The two fan restaurants have a capacity of 1.000 persons each. There are daily tours of the stadium, that give a glimpse behind the scenes. www.allianz-arena.de
GERMANY's BIGGEST CLUB MUSEUM
With more than 3.000 m² of exhibition space the FC Bayern Museum is Germany's largest club museum. On February 27, 2020, the FC Bayern celebrated its 120th anniversary. I will be very pleased to accompany you on a journey through the time from the club's foundation 120 years ago to the present days. The fascinating exhibits and state-of-the-art multimedia displays provide an absorbing blend of information, rich emotions and captivating interactivity. The FC Bayern won 29 times the Federal Cup (Deutsche Meisterschaft) and 19 DFB Pokal. You will adore numerous throphees and awards. There's something for everyone, big and small, old and young! Every FC Bayern legend has a story to tell: we will get to know the greatest playsers.
Allianz Arena (Stade de football)

Avec l' Allianz Arena Munich dispose d'un stade de football de niveau international. La facade et le toit du stade constituent plus de 2.600 coussins d'air en forme de losanges. Ils sont illuminés en couleurs différentes: rouge pour le FC Bayern. Lors d'un match de foot de la "Champions League" les coussins d'air s'illument en blanc (couleur neutre).
Les fameux architects de Bales (Suisse), Pierre Herzog & Jacques de Meuron réalisa avec ce stade de 75.000 places pour des matchs fédérals un symbole moderne de Munich en 2005 ainsi que pour le Championat du Monde an 2006.
Le musé nomme "FC Bayern Museum" comprend 3.000 m² de surface pour ses expositions. Cela sont des médailles et des grandes coupes des matchs nationals et internationals depuis 120 ans ainsi que des trophées sensationelles C'est juste le 27 Février 2020 que le club FC Bayern München avait une fète grandiose à céléber son anniversaire de 120 ans.