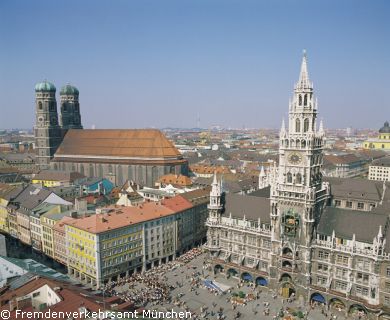 Wo die Münchner Politik gemacht wird
Im Rahmen einer speziellen Stadtführung oder als Themenrundgang zeige ich Ihnen anlässlich meiner Rathausführung nicht nur Orte, wo die Politik der Stadt bestimmt wird, sondern streife auch markante Ecken des Gebäudes im Stil der Neo-Gotik und erzähle Ihnen Geschichten und Anekdoten aus seiner bewegten Historie.
Im Großen Sitzungssaal tagt der Münchner Stadtrat (80 Mitglieder des Ehrenamtlichen Stadtrats und die Referenten mit Mitarbeitern unter der Leitung des Oberbürgermeisters bei einer Vollversammlung). Dominiert wird dieser Raum durch das monumentale Wandgemälde "Monachia" des Historienmalers Karl von Piloty, welches signifikante Persönlichkeiten der Münchner Stadthistorie aus mehreren Jahrhunderten darstellt. Frage: kannten sich die rund 120 dargestellten Persönlichkeiten aus Gesellschaft, Kirche und Stadt, die scheinbar miteinander plaudern und kommunizieren?
Im Kleinen Sitzungssaal, ehemals "Magistrats-Sitzungssaal", finden Sitzungen des Senats und prunkvolle Empfänge statt. Zur Prunkausstattung gehören Holzvertäfelungen an den Wänden, eine Standuhr mit reich verziertem Gehäuse und eine kunstvoll geschnitzte Eichenholzdecke mit wuchtigem Bronze-Leuchter.
Als ehemaliges Mitglied des Ehrenamtlichen Stadtrats stelle ich Ihnen aktuelle Stadträtinnen und Stadträte sowie die bekanntesten der elf Stadtminister an Hand ihrer Biografie und politischen Erfolge und Ziele vor. Im Kleinen Sitzungssaal hatte ich die einmalige Gelegenheit, brilliante Köpfe wie den 14. Dalai Lama begrüßen zu dürfen, als sich seine Heiligkeit in das Goldene Buch der Landeshauptstadt München eintrug. Bereits mit 4 Jahren war er von tibetischen Mönchen als geistliches und weltliches Oberhaupt Tibets inthronisiert worden und lebt seit Jahren im Exil im Himalaja.
Der schmucke Bibliotheken-Saal im Jugendstil ist das Herzstück der Juristen Bibliothek, eine öffentliche Präsenzbibliothek, die in einem zweigeschossigen und besonders reich ausgestatteten Saal im 3. Stock untergebracht ist. Der große Saal ist gerahmt von zwei reich verzierten Wendeltreppen, die zu zwei umlaufenden, mit vergoldeten schmiedeeisernen Gittern versehenen Galerien führen.
Für Fußball-Fans ist das Highlight dieser Rathausführung der Besuch des "Meisterbalkon" des FC Bayern. Das ist der Lieblingsbalkon der Bayern. Dort oben zu stehen und auf den Marienplatz hinunter und hinüber zum Alten Peter zu schauen, ist ein unvergessliches Erlebnis! Nicht nur für FC Bayen-Fans. Fotoapparat nicht vergessen.
Just auf diesem Balkon nehmen die Fußballmillionäre des FCB die Huldigungen ihrer Fans entgegen. Sie feierten beispielsweise 2013 mit einer saftigen Weißbierdusche das Tripple, die begehrtesten Fußballtrophäen von ganz Europa: Champions League, DFB Pokal und die Deutsche Meisterschaft. Wer war der Erfolgs-Coach?
Wo ist das Münchner Kindl zu sehen, das Wahrzeichen von München? Den Mönch mit der goldgeränderten schwarzen Kutte?
The New Town Hall of Munich –
This is where the municipal politics of Bavaria's capital are discussed and decided – Next English Guided Tour on February 15, 2020, 13.30 PM

What many tourists do not know: the New Town Hall is not as old as it looks like but even 400 years younger than the Old Town Hall. Its construction started in 1867 and was finished in 1909, when the sculpture of the Munich Monk (Münchner Kindl) was put up on top of the 80 meter high watch tower in the "new" gothic style. Since then at 11 o'clock every day the Carillion (Glockenspiel) starts to play its 43 bells to accompany the figures performing a tournament on horses and the coopers dance enjoying thousands of visitors watching the 16 figurines turning around presented in colorful outfits on copper.
Das Neue Rathaus mit seinem 80 m hohen Rathausturm und dem weltberühmten Glockenspiel – ein Magnet für Tausende von Touristen aus aller Welt.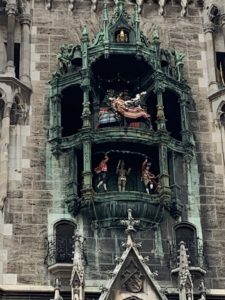 In the 19th century the "new" gothic style was considered to be typical German, so the young architect from Austria, Georg Hauberrisser, was winning the contest between 27 architects by 1 vote – his own vote. Within 40 years Hauberrisser was able to realize the three different construction sections and much of the exterior design of the richly decorated façade as well as the interior design of the assembly chambers and the wide flight of stairs.
During my guided tour we will walk on 3 levels to visit the main assembly chamber as well as the senate chamber telling you many legends and anecdotes of the past century. As a former member of the city council (1996 – 2002) I will explain you not only the furniture, interesting wall paintings and stained glass windows but above all the function of the Munich city council.
Would you know the difference between one of the 80 members of the honorable council in contrast to the functions of the members of the professional council? Do you know the "Wurmeck" as favorite meeting point of the citizens in the 19th century? Who acts as chairman during the plenary session and who presides the senate commissions? Who elects the 80 members of the honorable council and who elects the professionals? How much was destroyed during World War II? What about the costs of the tow hall comprising 9.150 cubic meters?
In the Main Council Chamber (Großer Sitzungsaal) you will sit down like councilors and I will answer questions and explain the huge oil canvas of 15 meters length hanging at the main wall. Carl von Piloty, a renowned Munich master of historical paintings, intended to leave the city to become a professor at the academy of arts in Berlin. So the Munich city council including King Ludwig II immediately gave him the order for the canvas presenting about 120 personalities of 4 different centuries. How does that match?
Bishops next to architects, teachers with some pupils next to a beer brewer having dried hops on his shoulders, a princess in an ornate wedding outfit next to painters, sculptures and a rafts man. Even members of the former royal family of the Wittelsbach are presented in wonderful outfits of fine velvet and handmade lace.
The Senate Hall (Kleiner Sitzungsaal) is a real gem of Munich handicraft having an outstanding oak wood ceiling with a bronze chandelier and 114 guilt candles. The hand sculptured council chairs are surprising wood carvings. The wall painting shows the "Monachia", the personification of the city of Munich. The "Monachia" is on her knees in front of King Ludwig I. who stands next to a wooden chair crowned by a tall crucifix. Two young boys present practical wisdom and goals in the life of King Ludwig I.
"Justice" – "Fairness" – "Faithfulness"
In this gorgeous assembly hall I attended the reception of his Holy Highness Dalai Lama, as he signed the Guilt Book of Munich in the presence of the city council and VIPs of the Munich society, economy, sciences and churches.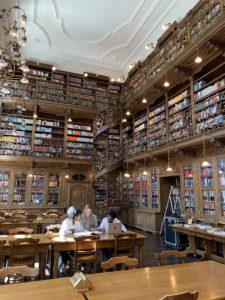 The next highlight in the New City Hall is the Juridical Library (Juristische Bibliothek) in a 15 m high reading hall hiding 65 000 precious books on German and international law. The interior design is an elegant example of art nouveau style. This fact often attracts film producers and interesting lectures on recently published books or movies.
Last but not least my group is allowed to accompany me onto the balcony overlooking Marieplatz and the heart of the city. On that balcony the soccer millionaires of the FC Bayern celebrate almost every year the German Championship overlooking 60 000 fans on Marienplatz. This extraordinary point of view leaves an unforgettable impression forever.
Barbara Schöne, Stadträtin a. D.
40 Jahre Erfahrung mit Stadtführungen für Münchner und Touristen aus 50 Ländern
In unmittelbarer Nähe des Neuen Rathauses befindet sich das nach der Kriegszerstörung 1958 wieder aufgebaute Alte Rathaus mit einem großartigen Tonnengewölbe im Festsaal für Representation, Festessen, Empfänge. Ein populäres Beispiel ist der beliebte Sportlerempfang. Alle sechs Jahre findet hier die Vereidigung der neu gewählten Stadträte statt. Den Eingang zum Alten Rathaus unter den Arkaden markiert ein Moriskentänzer.