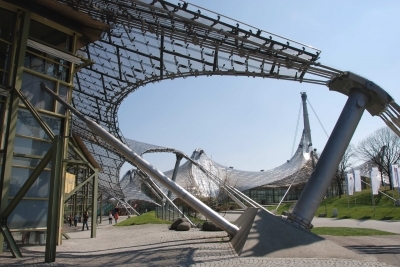 Stadtführung in München – individuell – kompetent – informativ
3-stündige Stadtrundfahrt mit Besichtigung des Olympiageländes der XX. Olympischen Sommerspiele von 1972 mit seinem berühmten Zeltdach aus Acryl. Nach Wunsch Eintritt ins Olympiastadion (kostenpflichtig) oder kurz in das Olympia-Schwimmstadion. 
Oder Sie machen einen Foto-Stopp (ohne meine Führung) in der BMW Welt mit seiner aktuellen Autoproduktion (BMW, Mini, Rolls Royce) und Motorrädern (Eintritt frei). Da ich selbständiger, freiberuflicher Gästeführer der Stadt München seit 40 Jahren bin, bin ich keine BMW Angestellte und als Gästeführer dort unerwünscht!
Mit anderen Worten: ich, Barbara Schöne, begleite Sie in die bin BMW-Welt nach meiner ausführlichen Einführung im Bus am Mikrofon. Anschließend begleite ich Sie ohne Führung auf einem  Rundgang. Sie fotografieren nach Herzenslust und Laune und setzen sich auf eines der vielen Motorräder zwecks Selfie-Star-Foto für Ihre Kids zu Hause oder trinken einen Kaffee (etwas hochpreisig).
3 heures de visite guidée ci-inclus un tour à pied à travers le Parc Olympique. Quand le temps le permet nous pouvons prendre l'ascenseur dans la tour olympique pour arriver au platform de 180 mètres d'hauteur. La vue jusqu'au Alpes est grandiose.
Ou bien vous allez faire un Selfie-photo-stop à vous-mème – sans ètre guidé par moi – dans le BMW Welt pour regarder les automobiles actuelles (BMW, Mini, Rolls Royce) pendant une heure minimum. Je suis free-lance guide olfficiewl de Munich depuis 40 ans, mais je ne suis pas autorisée de vous guider dans des imeubles BMW! Ensuite nous irons ensemble en ville pour terminer à la Marienplatz.

3 hours of a bus tour including a walk on the large terrain of the XX. Olympic Summer Games of 1972 with its famous roof of 75.000 m² of Acrylic and its olympic stadium (entrance to be paid).
Or you choose one hour stop inside the BMW World to see, touch and take Selfie photos of the actual car porduction of the three brands (BMW, Mini and Rolls Royce) plus motor cycles (no entrace fee). I am an official tour guide of the city of Munich, not a BMW guide. So I am not allowed to guide you inside a BMW buildings. You will be on your own to take your shots and enjoy before we leave by bus to drive to the city centre.

In den Sommermonaten genießen wir um 11 Uhr, 12 Uhr mittags oder 17 Uhr das Glockenspiel im Rathausturm auf dem Marienplatz, dem Herz der Stadt.
In summer we will end the tour in the city centre at Marienplatz to enjoy the Glockenspiel (carillion) at 11 AM, 12 o'clock noon or 5 PM.
En été nous terminerons notre visite au centre-ville sur la Marienplatz pour possiblement regarder le carillon. Le GLOCKENSPIEL se passe à 11 heures, 12 heures midi et en été à 17 heures dans l'après midi.
Barbara Schöne, offizieller Stadtführer seit 40 Jahren in Deutsch, Englisch und Französisch
WICHTIG
Wir Offiziellen Gästeführer der Stadt München sind in der BMW Welt nicht gerne gesehen, weshalb ich nur vom Bus aus am Mikrofon Details erläutere jedoch innerhalb von BMW-Gebäuden nicht führe. Das ist die BMW-Unternehmens-Philosophie. Jeder Interessent kann eine BMW-Führung individuell und direkt bei BMW im Internet buchen.